Superintendent Minister's Welcome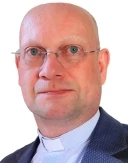 The Oldham Circuit is a new Circuit within the Methodist Church in Britain. We are made up of the former Oldham & Saddleworth and Shaw & Royton Circuits in the Manchester & Stockport District. The Circuit, to the north of the Manchester conurbation, encompasses the Oldham Metropolitan Borough and includes churches in rural, suburban and urban settings. We are also excited to be developing new work in Oldham Town Centre.
The Methodist Church has a commitment to being a growing, evangelistic, inclusive and justice-seeking church. You can read how our mission priorities reflect those of the Methodist Church in Britain by going to the "Our Mission" tab above.
The Revd Dr Adrian Burdon is the Superintendent Minister of the Oldham Circuit

Ordination of the Revd Ken McNally
The Revd Ken McNally was received into full connexion and ordained at the Methodist Conference in Telford and Shrewsbury on Sunday 26 June 2022. You can watch online, and catch-up. through the worship pages of this website HERE.


---
A Prayer for the Day and Daily Bible Study
A prayer for today is available here and the daily Bible Study is here, both are supplied by The Methodist Church in Britain.