Superintendent Minister's Welcome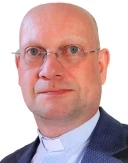 The Oldham Circuit is a new Circuit within the Methodist Church in Britain. We are made up of the former Oldham & Saddleworth and Shaw & Royton Circuits in the Manchester & Stockport District. The Circuit, to the north of the Manchester conurbation, encompasses the Oldham Metropolitan Borough and includes churches in rural, suburban and urban settings. We are also excited to be developing new work in Oldham Town Centre.
The Methodist Church has a commitment to being a growing, evangelistic, inclusive and justice-seeking church. You can read how our mission priorities reflect those of the Methodist Church in Britain by going to the "Our Mission" tab above.
The Revd Dr Adrian Burdon is the Superintendent Minister of the Oldham Circuit

Prayer for peace in Ukraine
Holy and Gracious God
We pray for the people of the Ukraine and the people of Russia;
for their countries and their leaders.
We pray for all those who are afraid;
that your everlasting arms hold them in this time of great fear.
We pray for all those who have the power over life and death;
that they will choose for all people life, and life in all its fullness.
We pray for those who choose war;
that they will remember that you direct your people
to turn our swords into ploughshares and seek for peace.
We pray for leaders on the world stage;
that they are inspired by the wisdom and courage of Christ.
Above all, Lord, today we pray for peace for Ukraine.
And we ask this in the name of your blessed Son.
Lord have mercy.
Amen
A Statement on the war in Ukraine by the President of the Methodist Conference
Join in with online prayer for Ukraine on Ash Wednesday
The Conference of European Churches which includes the World Methodist Council, has issued an invitation to an online prayer service on Ash Wednesday, 2 March at 4pm (GMT). The service will bring together Christians from Ukraine and other parts of the world, seeking peace and an end to the ongoing conflict. Register to join here.


---
A Prayer for the Day and Daily Bible Study
A prayer for today is available here and the daily Bible Study is here, both are supplied by The Methodist Church in Britain.