Superintendent Minister's Welcome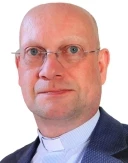 The Oldham Circuit is a new Circuit within the Methodist Church in Britain. We are made up of the former Oldham & Saddleworth and Shaw & Royton Circuits in the Manchester & Stockport District. The Circuit, to the north of the Manchester conurbation, encompasses the Oldham Metropolitan Borough and includes churches in rural, suburban and urban settings. We are also excited to be developing new work in Oldham Town Centre.
We still need some help with the leadership of our new circuit. We need someone to take on the role of Circuit Steward with responsibility for finance. We pay for the services of a Circuit Finance Officer who does the day-to-day business of the Circuit, prepares financial statements and prepares budget reports. The Circuit Steward responsible for finance is to be the compliance officer, ensuring that our Methodist ways are followed, helping the Circuit to develop policy and make budget decisions and to represent all financial matters at the Circuit Meeting. If you can help with this, or know someone who might, please contact the Superintendent Minister.
The Methodist Church has a commitment to being a growing, evangelistic, inclusive and justice-seeking church. You can read how our mission priorities reflect those of the Methodist Church in Britain by going to the "Our Mission" tab above.
The Superintendent Minister is the Revd Dr Adrian Burdon
Circuit Service | Watch Again
The service to inaugurate the new Circuit and to welcome the Revd Suva Catford took place at Trinity Methodist Church in Royton at on Sunday 5 September 2021. At the service we took a collection for All We Can which raised £218.92 – thank you very much. The service was livestreamed and you can watch it again via YouTube by following this link.
Schedule of Meetings
Please note the schedule of meetings for the new Circuit as shown on the right hand of this page. For further information about any of the meetings, please contact the Superintendent Minister at adrian.burdon@methodist.org.uk.
Please particularly accept an open invitation to attend the Circuit Mission Forum. This is a place for anyone who wishes to come together to discuss the mission and ministry of the circuit. Please do come.
Other meetings are for specific office holders and are a place for them to come together to do their work.
The Circuit Meeting is a meeting for the managing trustees of the Oldham Circuit and all members of the meeting are encouraged to attend. The Circuit Meeting shall receive reports and recommendations from the various forum meetings and is the place of governance for the Circuit.
---
A Prayer for the Day and Daily Bible Study
A prayer for today is available here and the daily Bible Study is here, both are supplied by The Methodist Church in Britain.